Conference Registration is now open!
Hotel reservations can be made at the group rate up until Friday, March 3, 2023
Link to group rate registration page
DRAFT Conference Agendas are posted, but subject to change:
We are here to help! If you have any concerns or questions regarding conference itself, registration or travel, please email us at:  events@hpsnetwork.org

¡Día de educación sobre HPS – Evento annual!
Pueden hacer su reservación en el hotel con la tarifa de grupo hasta el viernes 24 de Marzo del 2023
BORRADOR Las agendas de la conferencia están sujetas a cambios:
Enlace al borrador de la agenda para adultos
For more information or to arrange to become a sponsor, please contact our Director of Development, Kristen Brantner at kbrantner@hpsnetwork.org

HPS Network Members, we need your help.  As members, you know how much this event means to our community and we want to do everything we can to make sure this event is a success.  As costs have significantly increased and new expenses for safety protocols will be needed, we are expanding the Sponsorship Opportunities to our members!  
Detailed member sponsorship opportunities can be found here: member sponsorship opportunities 
If you are in the position to become a Sponsor, you can make your donation on our Sponsorship Donation page (Sponsorship Donation Page) or contact Kristen Brantner, Director of Development directly to make arrangements at:  KBrantner@hpsnetwork.org
Conferences
Families affected by Hermansky-Pudlak Syndrome gather each year for the HPS Network conference. The HPS Network Conference is a place for families, physicians and researchers with an interest in Hermansky-Pudlak Syndrome (HPS) from around the world to gather for fellowship, education and fun.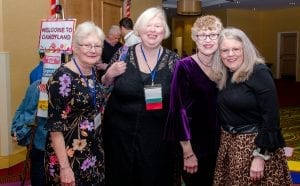 HPS Conferences include:
Opportunities to meet and network with other families affected by HPS.
Educational sessions for everyone from the newly diagnosed, to seasoned veterans. Topics include: an overview for those newly diagnosed, women's health issues, coping with the GI complications of HPS and information about lung transplantation, among others.
Updates on the most current HPS research
Opportunities to meet the doctors and researchers working to find better treatments, and someday, the cure.
Sessions designed to be a chance for attendees to have fun with new and old friends.
Sessions to learn how your family can participate and be a part of the solution.
Opportunities to participate in HPS research.
Kids Camp – supervised fun activities for all.
Watch the following video and hear from those who have previously attended our conferences: