Summer FUNdraising Ideas
Outdoor Sports Fun:  Arrange a day to play, invite friends and charge an entrance fee. You could have a prize for the winner or get some gifts donated by local businesses. Some fun outdoor sport you could do: Mini golf / Golf tournament, Frisbee, Pickleball, Badminton, Cornhole, Tennis, Volleyball, Bike ride, Walk / Run, Outdoor Yoga / Pilates
Backyard Fun:  Its easy to have friends over for a fun day in your backyard, plan a BBQ, Smores night, Outdoor movie, yard games and charge an entrance fee or ask for a donation
Summer Clean Out:  Time to clear out those unwanted items. Sell as a fundraiser for the HPS Network! Make sure people know you are selling as a fundraiser, sometimes they are even willing to donate more than you are selling for if they know it is going to a 501c3 nonprofit organization! Ways to sell: Yard Sale, Facebook Marketplace, OfferUp, Craigslist…
Summer Talents:  DIY projects / Crafts / Baked goods: This is a talented group! Use your skills to raise money for the HPS Network: sell an item, offer a service
Restaurant Fun:  Many restaurants have a donation program; they will donate a % of all sales made during your event time/day. Ask all your friends to dine or take-out from that restaurant to benefit the HPS Network! Some places to host: Chipotle, Mod Pizza, Dominos, Panda Express, also check local restaurants!
Krispy Kreme:  Amber Klein has arranged a fantastic and DELICIOUS fundraiser! For every dozen sold at $15 Krispy Kreme will donate $7.50 to the HPS Network!!!! Visit Link: https://www.groupraise.com/oc/11323-krispy-kreme/5T6CCH
HPS Cookbook:  We will be making a HPS Network Cookbook to sell in time for the holidays, it would be a great gift! Submit your favorite family recipe to help make this cookbook a combination of our communities' delicious recipes!!!! Submit recipes to: events@hpsnetwork.org
Show your support all year round!
The HPS "Lots of Dots Challenge" is an opportunity to raise awareness and funding in a fun symbolic way to advance our mission to cureHPS.  
The launch of this challenge took place on April 6th, HPS Awareness Day!  Including dots in your social media pictures is a simple and easy way to show your support for HPS. Your participation will raise awareness for HPS, which provides hope and opportunity. It gives a voice to those who may never be heard.
Why Dots?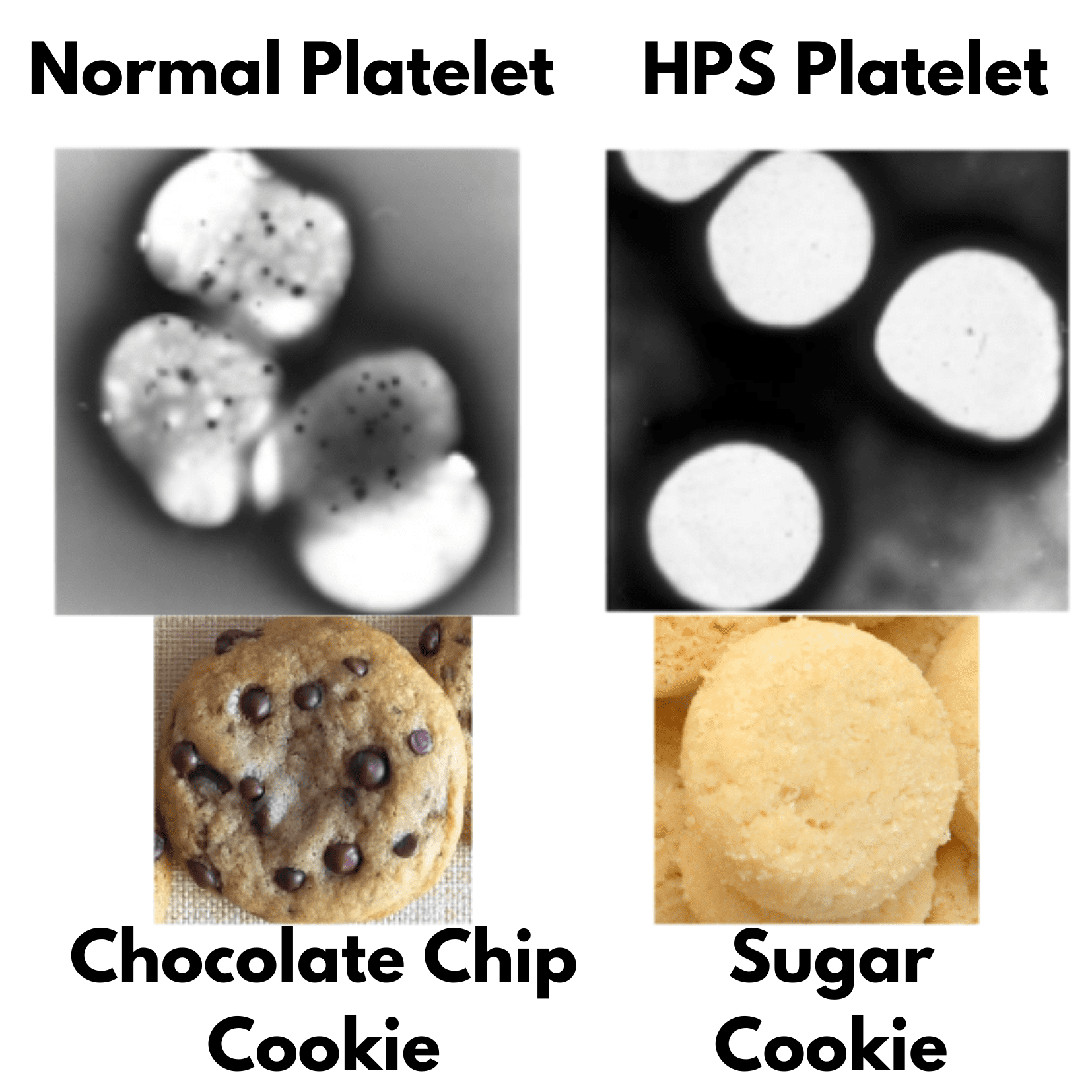 It's the DOTS…in our case, lack of dots that identify a person with Hermansky-Pudlak Syndrome (HPS). The first step in diagnosis is to analyze the prepared platelets under the electron microscope. A normal functioning platelet looks like a chocolate chip cookie; it has "dots", these are the dense body granules that contain chemicals that are released when there is an injury. The chemicals help the platelets clump together to form a blood clot. An HPS platelet looks like a sugar cookie; it is missing the dense body granules; the "dots", that allow the blood to clot properly. It is identifying the lack of dots that gives a definitive diagnosis of Hermansky-Pudlak Syndrome.
Curing this disease would correct the platelet defect and give us LOTS OF DOTS!! Therefore, we have adopted the DOTS as a symbol of significance within our HPS community and #cureHPS mission. We have designed our awareness ribbon to reflect this, a red ribbon with black dots. We use "dots" as part of our images, communication, and awareness.
How Can I Participate on Social Media?
Post a picture on social media showing off your dots for the mission #CureHPS 
Include the phrase: "My dots are making a difference" and Hashtags: #LotsofDots   #CureHPS
Copy and paste with your post: I participated in the "Lots of Dots" challenge!  My DOTS are making a difference; they are raising AWARENESS & FUNDING to CURE the Rare Disorder: HPS, that affects multiple systems in the body.  Please visit: HPSnetwork.org to find out what the DOTS represent, learn more about HPS, and Donate!!  

Nominate and tag at least 3 friends to keep the challenge going!
EXAMPLES: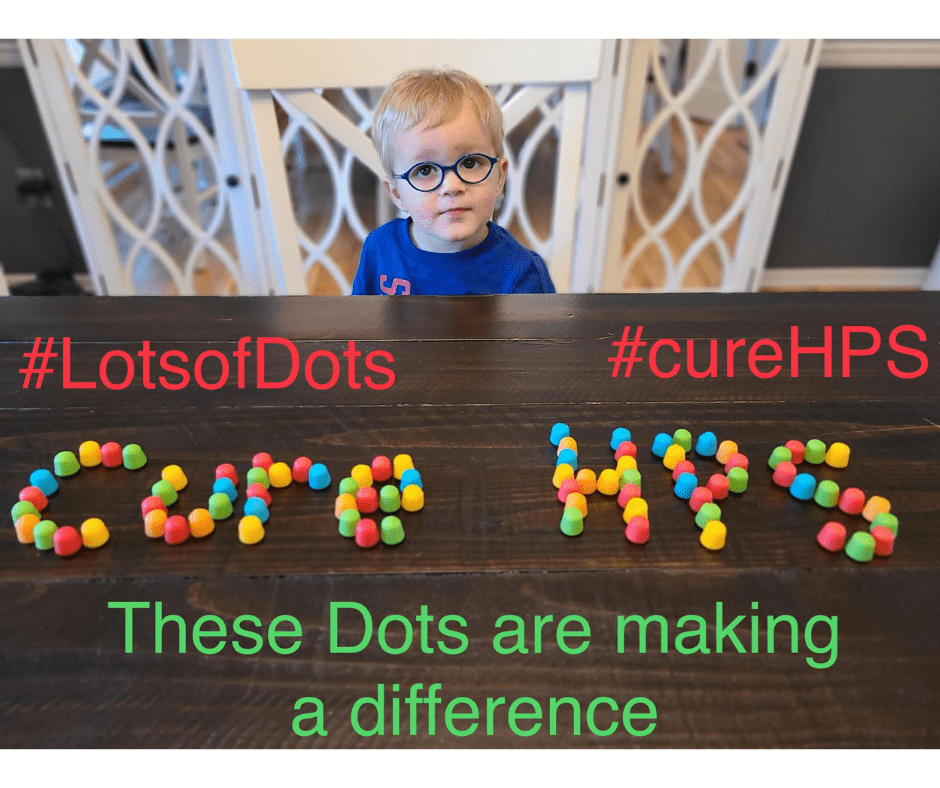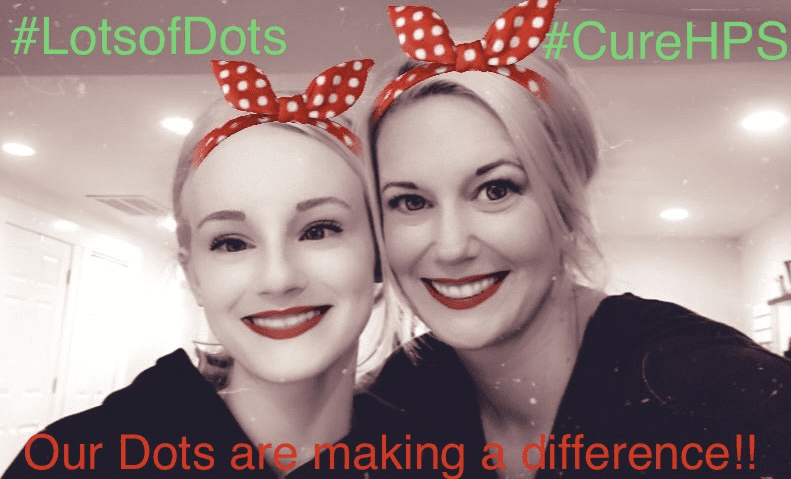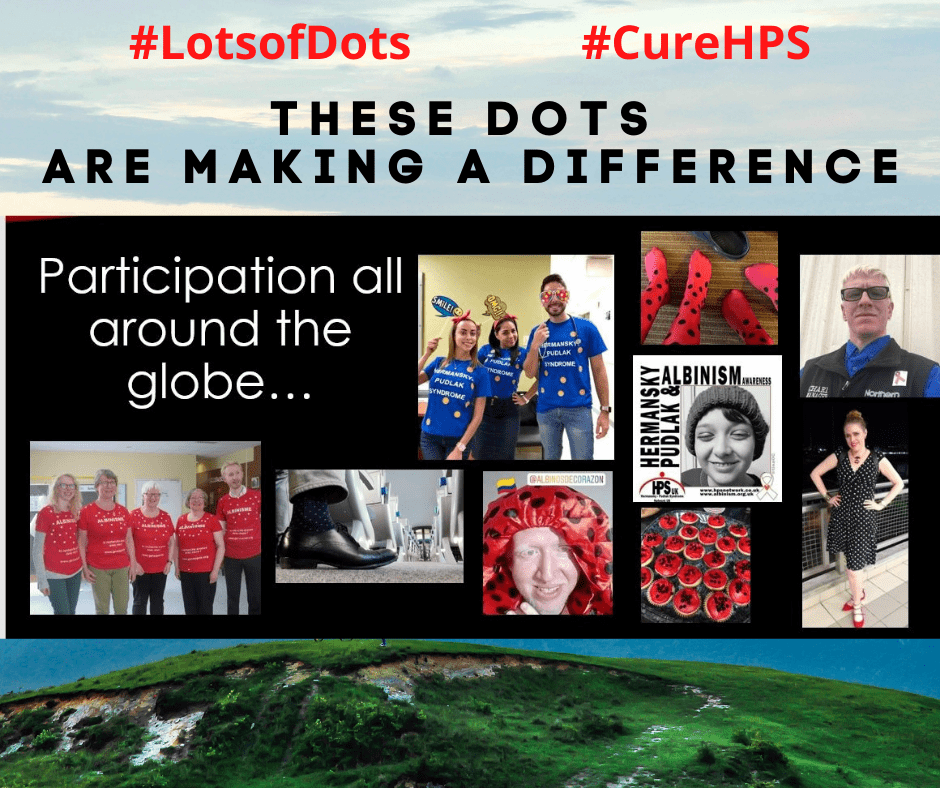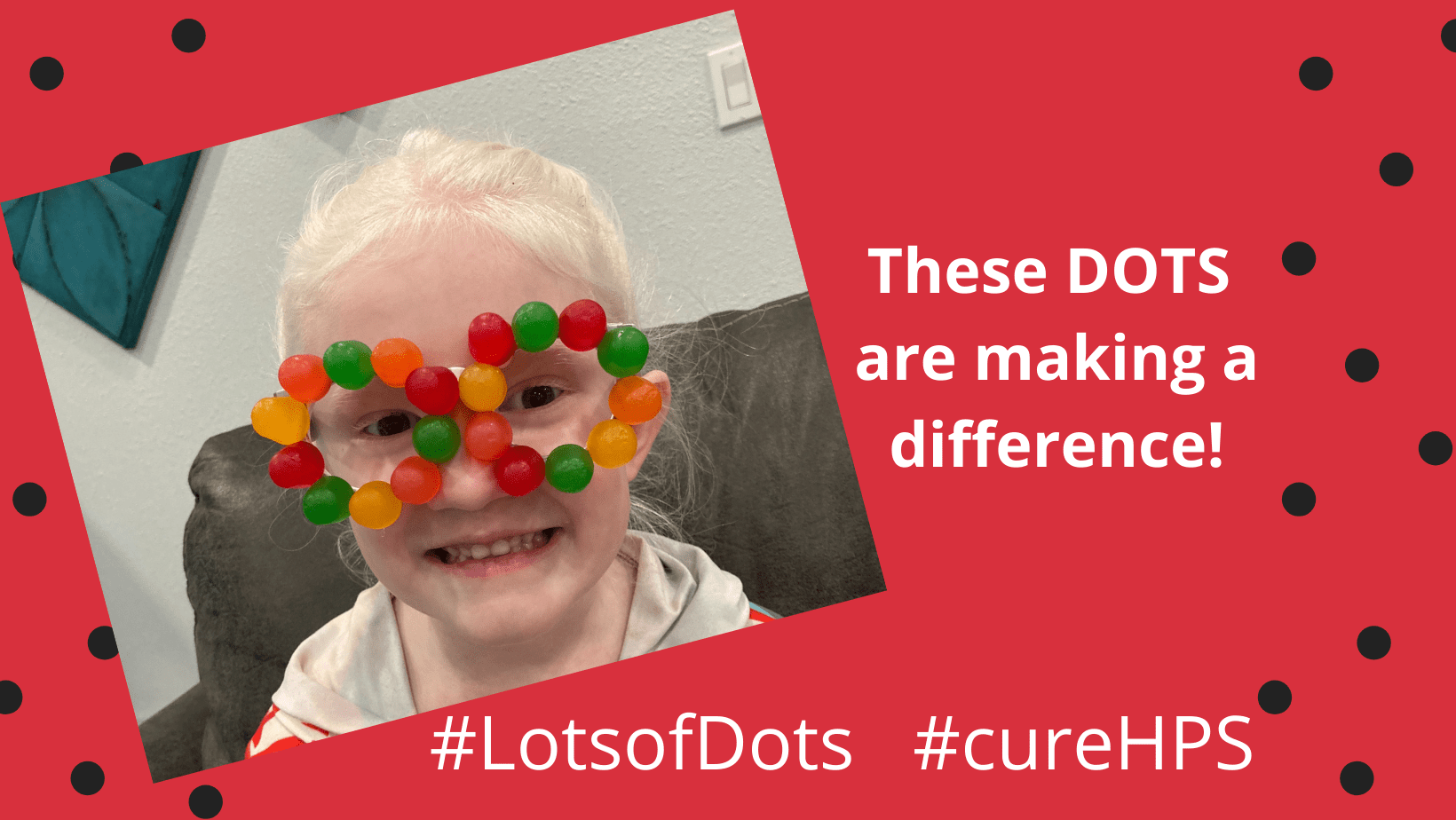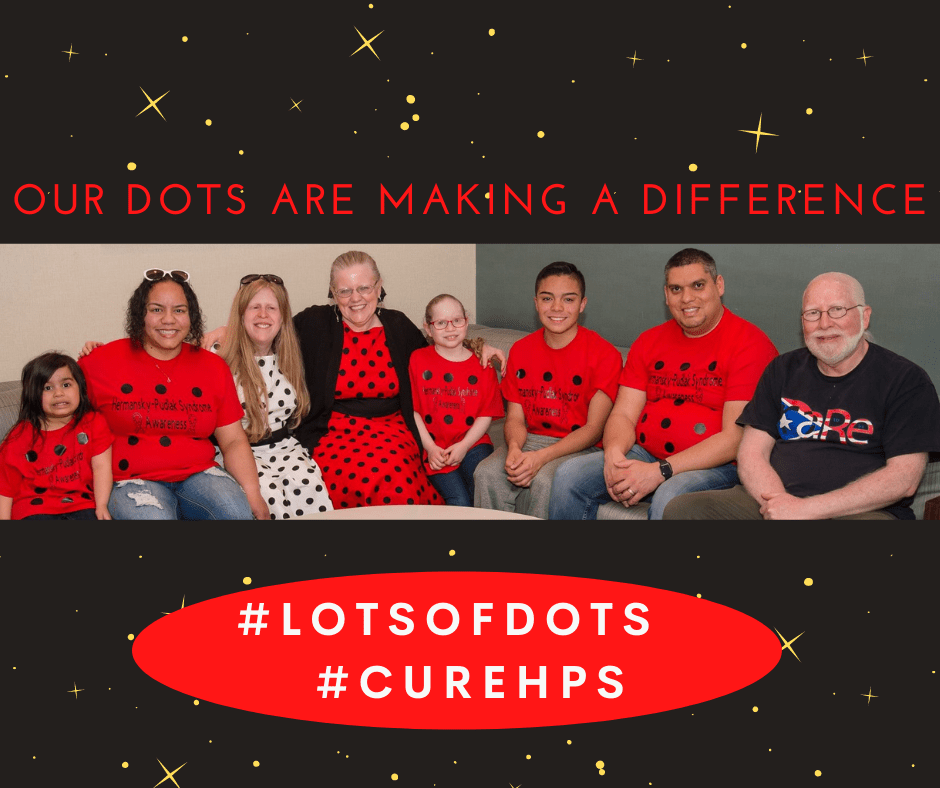 How do I explain HPS and the HPS Network to others?
Hermansky-Pudlak Syndrome is a rare genetic metabolic disorder that affects multiple systems in the body. It is characterized by albinism, visual impairment, and a platelet dysfunction that results in prolonged bleeding. Many people with HPS will develop other complications including inflammatory bowel disease, pulmonary fibrosis, and kidney disease.
The HPS Network's mission is to provide education and vital support programs to individuals and families with Hermansky-Pudlak Syndrome while striving for improved care and innovative research on our journey to cure. 
What if I'm not on Social Media?
You still can participate even if you don't have social media!  
Send us a picture, we can post it for you.  

Tell your friends and family about the challenge.  Text them your picture!

Send friends and family to our website for more information and to donate.
All of this is raising awareness about HPS and our DOTS, which is the goal of this challenge.
Show the world that "These DOTS are making a difference".  This new Lots of Dots apparel was designed to raise AWARENESS and FUNDING for the CureHPS mission!  All proceeds go directly to the HPS Network.  
Order now at:  Bonfire.com/lots-of-dots