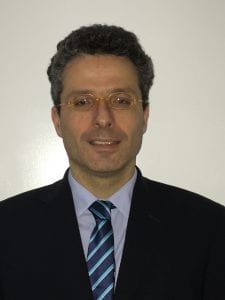 Dr. Souheil Y. El-Chemaly will give a presentation about lung transplantation at the 26th Annual HPS Network Conference, to be held March 8 – 10, 2019 at the Long Island Marriott in Uniondale, N.Y. Understanding the process of lung transplantation will help those with Hermansky-Pudlak Syndrome decide if this is the right option for them, as well as help them prepare for the process. Advanced planning can save time when time matters most.
Dr. El Chemaly is the Clinical Director of the Center for LAM Research and Clinical Care and a physician at Brigham and Women's Hospital (BWH). He is also an Assistant Professor of Medicine at Harvard Medical School. His lab is also currently researching Hermansky-Pudlak Syndrome.
He received his medical degree from Saint Joseph University (Beirut, Lebanon). He then completed a residency in internal medicine at St. Luke's-Roosevelt Hospital Center, a teaching affiliate of Columbia University College of Physicians and Surgeons. He also participated in two fellowship programs in pulmonary and critical care: the first at the National Heart and Lung Institute (now the National Heart, Lung, and Blood Institute), and the second at the Jackson Memorial Hospital. He is board certified in critical care medicine, internal medicine and pulmonary disease.
Dr. El-Chemaly's clinical interests include interstitial lung disease, lung transplantation and lymphangioleiomyomatosis (LAM) and  Hermansky-Pudlak Syndrome. His recent clinical research examines the impact of interstitial lung abnormalities on mortality and lymphatic vessel formation after lung transplantation. He has written over 30 peer-reviewed publications and has received funding from the National Institutes of Health.