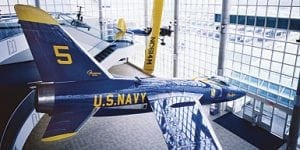 Kids attending Kids Camp at the HPS Conference, to be held at the Long Island Marriott in Uniondale, NY March 10 – 12 will have a plethora of fun activities to keep them busy while their parents attend conference sessions.
The HPS Kids Camp includes children with HPS, children of adults with HPS and often, the children of researchers and physicians presenting at the conference.
This year's annual field trip (for kids 5 and up) will be to the Cradle of Aviation Museum near the hotel. While there, they will see an IMAX film called, Blast Off to Space, ride an old fashioned carousel, play games in a "historic" video game arcade, and get a private tour of the museum. Other activities during the weekend will include a treasure hunt, learning about treating cuts with Nurse Jessie at the McStuffins Clinic, Low Vision Bingo and the annual pool party. Kids under five will have their own activities and playroom. They will get a visit from the Fun Bus – a school bus renovated as a tumbles gym where they can play – and a special drumming activity. All the kids can join in the DJ Dance Party Friday night! Kids' activities are included in their conference registration price.