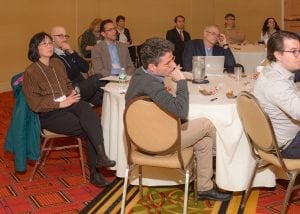 The third annual Meeting of the Minds brought together 38 doctors and researchers working to solve the mysteries of Hermansky-Pudlak Syndrome, March 11th at the Long Island Marriott in Uniondale, NY. The meeting was held in conjunction with the 24th Annual HPS Network Conference.
Chaired by Dr. Lisa Young and Dr. Bernadette Gochuico, the invitation-only and researcher-only meeting gave attendees a safe and collaborative environment to discuss unpublished research, communicate about novel methods, practices and resources and to identify vital research priorities.
"When researchers get together and talk to one another, new ideas percolate," said Dr. Lisa Young.
Fifteen presentations were given during the six-hour event concerning clinical care and research, basic cell biology and priority setting.
Several researchers presented for the first time at the meeting, including a team of researchers from the Children's Hospital of Philadelphia. This group, recipients of an HPS Network grant, is studying the inflammatory responses and immune reactions that may be playing a role in the bowel disease of HPS.
Dr. Tadafumi Yokoyama, a researcher from the National Institutes of Health, was another first-time presenter. He is studying the kidneys of people with HPS and has found unusual cellular deposits in the urine of patients with HPS types 1 and 4. He has also discovered that a protein commonly found in the kidneys is also present in the lungs. "That was not known before," explained Dr. William Gahl from the NIH, "In patients with HPS there is more of this protein sitting on the lungs." Gahl explained that the researchers do not yet know what this means, or whether it has any clinical or therapeutic target relevance. "For now, I'd put it in the category of a good lead," said Dr. Gahl.
Dr. Susan Guttentag, from Vanderbilt University, has developed a gene editing technology that allows researchers to better study lung epithelial cells in HPS mice. It is not possible to obtain these cells via lung lavage from patients, and is a time-consuming process to collect them from mouse samples. "Having cell lines like these allows us to get through more experiments faster," said Dr. Young.
Dr. Resat Cinar, also from the NIH and also a new presenter, shared information on his work with the cannabinoid 1 receptor. He is preparing to study a potential medication for the lung disease of HPS in HPS mice. He and collaborators have submitted a grant to help pay for this work. "It takes a long time to go through this process," said Dr. Gahl, "But this is what we need to do to follow this lead."
Dr. Christian Mueller from the University Of Massachusetts Medical School talked about gene therapy techniques and issues that must be overcome to make gene therapy a possible treatment for HPS.
Finally, Israel Rodriguez, a board member of the HPS Network, gave a presentation on behalf of HPS patients offering their perspective on the challenges and issues surrounding medication access.