Candice and Crystal Sipe's Story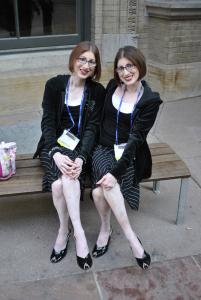 Identical twins Hema and Rama arrived in Phoenix, AZ. August 3rd, 1981 from Hyderabad India.  They had just turned a year old August 1st.  Hema weighed 12 pounds, Rama 13 pounds, very small for a one year old child.
Since they were Albinos, their adoptive parents, Joe and Karen Sipe chose to give them names that represented white, clear, pure, and crystal.  So, Hema became Crystal Dawn and Rama, Candice Diane.  They were very white with blond curls and their eyes were in constant movement.  School was hard for them, and because of legal blindness, all of their books had to be enlarged.  It took them longer to do their school assignments, because of the nystagmus of their eyes.
After severe illness, Candice and Crystal were diagnosed at the age of 13, with a rare disease called Hermansky-Pudlak Syndrome.  It is a genetic metabolic disorder, which causes albinism, a visual impairment, a platelet dysfunction with prolonged bleeding, and progressive symptoms including pulmonary fibrosis, inflammatory bowel disease and kidney disease.  Candice and Crystal's pulmonary functions range between 65%-69%. Their pulmonologist is amazed that they are able to sing and give concerts.
When Candice and Crystal were two, their parents noticed their natural ability to sing.  By age four, they began singing in their home church, where they accepted Christ as their personal Savior at the age of eight.  Over the years, they have performed at many places including talent shows, school choirs, churches, fund raising events and weddings. For several years they sang with a Victorian group called "Little Women," but felt God calling them into the ministry.
After many requests for recorded music, Candice and Crystal had the opportunity to record their first gospel CD.  Many people thought the two sounded like Angels whenever they sang and that's how they got there name. "Angels In Voice."
Candice and Crystal never imagined that their ministry would allow them to sing in so many places.  The Lord has opened many doors for them, and has given them so many opportunities to minister.  It was in the summer of 2001 that the twins had the honor of performing at the People's Genome Celebration & Genetic Alliance Annual Conference at the Smithsonian Museum of Natural History & Hyatt Regency Hotel on Capitol Hill in Washington D.C.
In January of 2004 Candice and Crystal recorded a second CD, They pray that their music will encourage people and bring many souls to Christ.
Candice has always been in and out of the hospital her whole life.  Most of it has been HPS related.  In April of 2005, she was diagnosed with Hepatocellular Carcinoma. (a rare form of liver cancer)  She had a 12.6cm tumor along with 60% of her liver and her gal bladder removed.  She spent two and a half weeks in ICU.  A couple day's after surgery, Candice took a turn for the worse.  The doctor's told Joe and Karen that it was all in God's hands; they had done all they could do for her, and that she would only live about a year.  The family was in turmoil during this time, especially Crystal.  She had to see Candice go through all this. They relied on God and so appreciated their church families help during this difficult time.  She was able to come home after six weeks in the hospital.  We had prayed for a miracle and believed we received it, especially since the Ventilator was inserted four different times.  Praise God her vocal cords were not damaged.
Candice continued to do well after her surgery.  She and Crystal started ministering again in churches throughout the valley.  Candice wrote a song when she was in the hospital called "Thank You Jesus."  The song tells us that we may have trials in our lives, but to remember Jesus is right there to help us every step of the way.
In September of 2006 Candice's cancer returned.  Through answered prayer we were able to seek treatment at the Mayo clinic.  Dr. Mulligan sent Candice for several tests, she also saw many specialists.  On November 8thshe had surgery to remove an 8mm spot on her lung.  Tests showed the cancer had metastasized.
That was truly devastating for her as well as her family.  Three weeks later she had a chemoembolization treatment done to kill the 5.2 cm tumor in her liver. That left her feeling very sick and weak for a couple of weeks.  Since her recurrence in 2006, Candice has been following up with Dr. Mulligan every three months.  As of 2013 she has been doing well.
She knows that God still has a plan for her life.  She and Crystal just take one day at a time praying that the Lord will continue to use them and give them strength.  The ladies were given the opportunity to record their third CD, which came out April 1st.  They would like it to be a blessing to those who hear it.
Candice and Crystal give a benefit concert yearly, raising money for Hermansky-Pudlak Syndrome research.  They are grateful for their ability to contribute to this worthy cause. The twins also feel so honored to be able to sing at the HPS conference every year.  God has also given them the opportunity to sing in International churches in Arizona.  The Eastern Indian Church (Logos Mission Church) An Arabic Church, a Jewish Church of born again believers, a Romanian Baptist Church and a Hispanic Bible Church.
Candice and Crystal thank God for blessing them with voices to sing his praises, as they glorify him, through music. They know only through his power and love, they can continue spreading his word.