HPS Awareness Day
First annual HPS Awareness Day a great success!
The first annual HPS Awareness Day went above and beyond expectations on April 6th, 2019 as people impacted by HPS around the world took advantage of the day to host fundraisers as well as generate awareness through social media activism.
Some fundraisers were online events through facebook or online t-shirt sales, but some were in-person events such as a pizza party, a movie night and a lemonade stand.
The day was conceived by Kristen Brantner, a board member of the HPS Network as well as the mother of two children with HPS. Sometimes it is hard to bring up the subject or ask friends and family for donations, but having a day makes it easier to talk about HPS.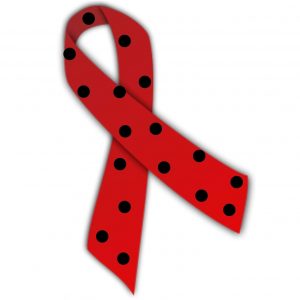 An awareness ribbon and facebook frame was created by Cassandra Mendez Ocasio and used by many in their social media advocacy on the day. The ribbon is red with black polka dots to represent the delta dense bodies missing from the platelets of everyone with HPS.
Genetic counseling students interning at the HPS Network office created a mascot for the Network that is a ladybug with sunglasses and dubbed, HPShady. People around the world sent in selfies showing off the polka dots they were wearing on HPS Awareness Day.
Approximately $25,000 was raised for HPS on or near the day. The impact was global with participants from all over the US and Puerto Rico as well as places such as France, Turkey, Columbia and Germany.