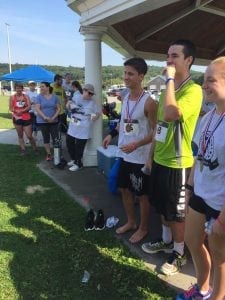 The second annual A Run Through History will be held Sunday, Oct. 22nd at 8:30 am at Theodore Roosevelt Memorial Park in Oyster Bay, NY. The event will benefit the HPS Network and PeerPals.org. To participate in the race, there is a $25 entrance fee, plus a $2.50 sign-up fee. Come run, or just walk, with your friends!
The HPS Network is an Oyster Bay-based non-profit serving those impacted by Hermansky-Pudlak Syndrome or HPS. HPS is a type of albinism that causes decreased visual acuity (often legal blindness), a bleeding disorder, and in some types bowel and lung disease.
Peerpals.org is also an Oyster Bay-based non-profit that provides play dates and friendship opportunities between preschool age kids with disabilities and their non-disabled peers in the community.
For more information, go to www.arunthroughhistory.org