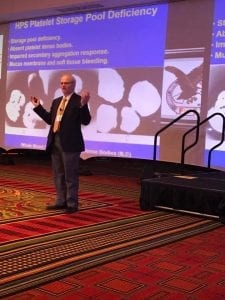 Nearly 300 people with HPS, their families and HPS researchers, met in Uniondale, N.Y. in March for the 24th Annual HPS Network Conference at the Long Island Marriott. The theme, Tune in the Network!
The weekend was kicked off by a first-ever Mothers' Workshop, given by Sheila Adamo, LCSW CADC. Adamo is the mother of a child with albinism, and now has a company doing workshops for the parents of children with special needs. While the moms were getting to know each other, the rest of their families played getting-to-know-you games and did team building exercises.
Friday evening President and Executive Director Donna Appell gave a Year in Review. She updated the crowd about the year's events, as well as what is ahead in the next year. And, she had a surprise! A LAUNCH PARTY!!! for Dare to be Rare, a new 501c(3) non-profit devoted to raising money for those with rare disorders and conditions using the Dare to be Rare brand. Other groups will be invited to raise money by selling Dare to be Rare merchandise, and the HPS Network will get a small percentage as the owner of the trademark. The HPS Network's own fundraising efforts through Dare to be Rare will also continue. The Dare to be Rare jingle was debuted, sung by Candice and Crystal Sipe, Casey Greer, Ashley Appell and Cassandra Mendez Ocasio. Lyrics were passed out and everyone joined in.
Saturday everyone gathered for a 24-year tradition, the HPS Network Family Album. Everyone introduced themselves, told one exciting thing that happened in the last year, and what they were looking forward to most in the coming year. The group then broke into special interest groups such as parents of a child with HPS, adults with HPS, coping with loss interest group.
"I really loved the parent session," says Kristen Bushaw, the parent of a child with HPS, "It was the first time I didn't feel alone in this. It was the first time I cried and everyone really knew how I was feeling."
After lunch, attendees attended breakout sessions on topics such as lung transplantation, raising a child with HPS, a Top Chef cooking challenge, a harmonica playing class designed to strengthen breathing and Zumba!
"I enjoyed the harmonica class," says Angie Creer, an adult with HPS, "It was a lot of fun and a great way to strengthen your lungs."
While adults attended sessions, the smaller kids played on a special "Fun Bus" outfitted with lots of things for tumble play. The older kids took a field trip to the Cradle of Aviation museum for a special tour, an IMAX movie and play at the retro video game room.
Saturday evening everyone attended the HPS Network Dinner and were entertained with musical performances, skits and of course, dancing! "After a sometimes emotional and heavy day of sessions, the dinner is a chance to relax and celebrate family," says Becky Nieves, the parent of a child with HPS.
Sunday is traditionally full of presentations about the medical side of HPS, as well as presentations about current scientific research. Topics such as research on gene therapy, treating bleeding episodes, research on the gastrointestinal complications of HPS and how to keep kidneys healthy were just some of the day's presentations.
Finally, the conference wraps up with a special photo presentation of the weekend's events put together by duo Karen and Tommy Tillman.
"One of the best parts of conference is getting to hang out with my HPS family. Just getting to be together and enjoy each other's company, to me, that's the major part of conference," says Emilio Ortiz, an adult with HPS.